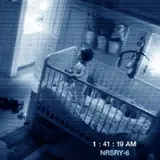 Paranormal Activity 2 opened on 1,800 screens Friday at midnight and pulled in $6.3 million from those showings.
For distributor Paramount, that's a new record as the best R-rated midnight opening of all-time. The previous champ was Warner Bros.' Watchmen which pulled in $4.6 million back in March of 2009.
Revised estimates now suggest Paranormal Activity 2 stands a decent shot at crossing $30 million through Sunday, tough as that might be for an R-rated horror flick. Jackass 3D proved last weekend to never tell Paramount the odds.
Here's a newly released Paranormal Activity 2 clip that remarkably features no security camera footage.
Source: Deadline