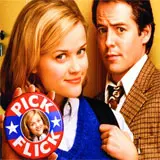 Paramount Home Entertainment has announced Alexander Payne's Election will make its high definition home video debut January 20 on Blu-ray Disc.
Tech specs are currently unavailable but we expect a 1080p transfer and some flavor of 5.1 surround sound.
The only known and likely lone supplemental feature is an audio commentary with director Alexander Payne.
Check back regularly for additional information, high resolution cover art and pre-order information on Election as it becomes available.
Discuss Election coming to Blu-ray in a dedicated HDR Forums thread.