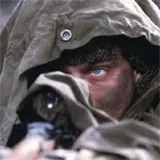 Paramount will fill out its Father's Day Blu-ray lineup with the WWII thriller Enemy at the Gates starring Jude Law, Ed Harris, and Joseph Fiennes.
An official announcement has yet to be made by Paramount but we can safely assume 1080p video, the original aspect ratio and 5.1 Dolby TrueHD will all be found on the disc.
Likewise with bonus features, it is safe to assume all found on the last DVD edition will be ported to Blu-ray in standard definition video. The only exception might be the theatrical trailer which could be in HD.
You can lock up a copy of Enemy at the Gates on Blu-ray for $20.99 when pre-ordering it from Amazon.com by clicking here.