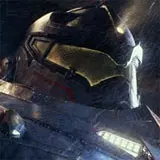 Sideshow Collectibles have teamed up with Warner Bros. and Guillermo del Toro to produce high-end collectibles based on this summers blockbuster film Pacific Rim.
Today's announcement was more of a teaser as none of the actual products were mentioned or previewed. Given Sideshow's history, they could produce anything from 1/6″ scale figures of the human stars to dioramas featuring the giant Jaegers and Kaijus battling each other. I expect the latter a minimum, and if the film is successful, we might even see something like a 1:1 scale Jaeger pilot helmet produced.
With Pacific Rim not hitting theaters until July 11, 2013, don't expect Sideshow to reveal more about their upcoming line based on the film for at least a few more months. We might not even get our first glimpse at prototypes until San Diego Comic-Con in July with actual product delivery falling later this year or in early 2014 to coincide with the Pacific Rim Blu-ray 3D, Blu-ray and DVD release.
Watch the Pacific Rim trailer if you haven't already.