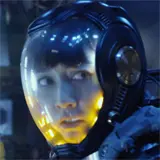 Guillermo del Toro's Jaeger vs. Kaiju flick Pacific Rim is still stomping around in theaters. That isn't stopping Warner Bros. and Amazon.com from opening up Blu-ray 3D and Blu-ray pre-orders for the visual effects extravaganza.
Within the past few hours, Amazon began taking pre-orders for Pacific Rimon Blu-ray 3D combo (with Blu-ray, DVD and UltraViolet included) and the Blu-ray combo (with DVD and UltraViolet included). The former is priced at $29.99 or 33% off its $44.96 list price, with the latter coming in at $24.99 or 31% off its $35.99 list price.
Already Blu-ray adopters are showing strong interest in watching all the amazing sights and sounds of Pacific Rim on their big screen TVs. The Blu-ray 3D combo pack has risen to the 11th spot on Amazon's Blu-ray bestsellers chart, and the Blu-ray combo is right behind it in the 12th spot. I expect both skus to crack the top 10 within the next few hours.
Pacific Rim stars Charlie Hunnam, Idris Elba, Rinko Kikuchi, Charlie Day and Burn Gorman. It was released theatrically on July 12 and has earned $72.8 million domestically at the box office to date. That not-too-great domestic number is bailed out a bit by the worldwide total of $183.3 million.
Despite Pacific Rim's mediocre box office performance, its spectacle on a scale rarely seen in film is the perfect match for Blu-ray and should help generate big home video sales.
Click here to pre-order Pacific Rim on Blu-ray 3D combo at Amazon.
Click here to pre-order Pacific Rim on Blu-ray combo at Amazon.
It will be another one to two months before Warner Bros. announces the Pacific Rim Blu-ray release date. I will pass that along when we catch wind of it.