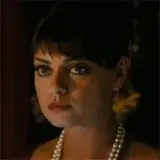 Disney and Sam Raimi's Oz The Great and Powerful was unveiled today via the film's first trailer with lavish and colorful visuals, flying and talking monkeys, massive-scale battles, and Mila Kunis putting the moves on James Franco.
As the name implies, Oz The Great and Powerful is a prequel to The Wizard of Oz that chronicles how struggling magician Oscar Diggs from Kansas (Franco) ended up becoming a mighty wizard. The short of it is he pilots a hot air balloon that gets gobbled up by a tornado and whisked off to a magical land where his destiny awaits.
The film also stars Kunis, Rachel Weisz and Michelle Williams as a trio of witches who question Oscar's claim to the riches and power of the Land of Oz, and Zach Braff as a talking monkey. Through them, Oscar will learn of Oz's struggles and eventually do battle with the Wicked Witch, hinted at in the trailer's final scene.
Raimi's visuals in Oz The Great and Powerful recall the vibrant world of Tim Burton's Alice in Wonderland, another Disney release. You can bet the Mouse House is hoping Oz The Great and Powerful can put up similar box office numbers to the Burton and Johnny Depp hit.
Oz The Great and Powerful arrives in theaters on March 8, 2013.