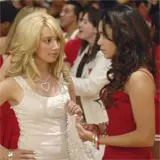 The original High School Musical will join its sequel on Blu-ray Disc when Disney releases the remix edition on February 17.
This is around the same time High School Musical 3: Senior Year is expected to arrive on home video. Coupling a catalog title with new release sequel from the same franchise is smart marketing so anticipate a double dose of High School Musical on the same day.
High School Musical Remix on Blu-ray will include the Hollywood premiere; a new interview with the cast; Dance Along in which Troy, Gabriella, Sharpay and Ryan give step-by-step instructions to popular dance sequences "Get'cha Head In The Game" and "We're All In This Together;" two song remixed versions and three new music videos.
Exact tech specs are currently unavailable but should fall in line with 1080p video and some flavor of lossless audio.
High School Musical Remix on Blu-ray will retail for $34.99.
Click here to pre-order High School Musical: Remix on Blu-rayfor $24.49 from Amazon.com.