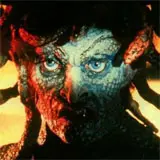 Some call it hokey, some nostalgic and others a classic. Wherever your feelings lie for Clash of the Titans, its lingering legacy has spawned an upcoming remake starring Sam Worthington as Perseus that will put Medusa, the Kraken and other mythical Greek creatures back into the spotlight.
To coincide wtih the March 26 release of the new Clash of the Titans, Warner Home Video is bringing the original to Blu-ray Disc for the first time on March 2. There is no word on whether it will be truly remastered, but the prospect of Clash of the Titans in 1080p video and lossless audio will make many fans happy.
Warner has packaged Clash of the Titans on Blu-ray win a digi-book case with the following bonus features:
A Conversation with Ray Harryhausen
Maps of Myths and Monsters Gallery
Trailers of 1981 Original and the 2010 Version
Check out the cover art below and be on the lookout for Amazon.com Clash of the Titans on Blu-ray pre-order information that we will pass along when available.