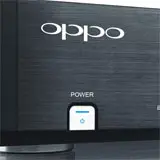 Following a successful test campaign with select hand-picked buyers, Oppo Digital has announced their first and currently only Blu-ray Disc player, the Oppo BDP-83, is now available and shipping to the masses.
The wait for this player has been a long one but should be well worth it. Reviews around the Internet have been overwhelmingly positive despite the steep $499 price tag, clearly proving this is a high quality product out to compete with the big boys.
You might be thinking "why shell out $500 for a standalone Blu-ray player when I can buy a Playstation 3 and play games on it for $100 less?" The answer is quite simple: the BDP-83 is technically a better player designed for a high-end user. Oppo is not marketing the BDP-83 to dudes in a dorm room with a 23″ LCD monitor. This player is designed for sets 32″ and up — the bigger, the better — where the smooth HD visuals and numerous available tweaks can shine.
We're hoping to get our hands on a BDP-83 to put it through the paces and report back our findings. In the meantime, you can read more about the Oppo BDP-83 Blu-ray player, as well as place an order if you so choose, at the official Oppo Digital website.