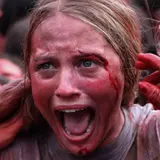 Eli Roth's cannibal-themed horror thriller The Green Inferno was a hit at the Toronto Film Festival. Open Road Films wasted no time in snatching up the distribution rights, and Roth used the TIFF screening to announced a sequel, Beyond The Green Inferno, is moving forward.
The Green Inferno stars Lorenza Izzo and Ariel Levy, whom appeared in Roth's recent Aftershock, and Daryl Sabara. It follows a group of activist students from New York that travel to the Amazon in hopes of saving a tribe from extinction. The twist is that while they want to save the tribe, the tribe are cannibals and want to eat their saviors.
Roth co-wrote The Green Inferno with Guillermo Amoedo and also served as a producer. He will likely have the same duties on the sequel.
The next The Green Inferno announcement should offer a theatrical release date, hopefully before this year is out. The Blu-ray and DVD release should occur sometime in early 2014.