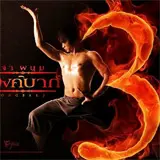 Thanks to a new listing over at Amazon.com we now know Magnolia Home Entertainment is planning to release Tony Jaa's Ong Bak 3 on Blu-ray Disc and DVD on February 8, 2011.
Little else is known about Ong Bak 3's home video debut at this time other than the Blu-ray will carry an SRP of $29.98. Additional details will be passed along as they are received.
Ong Bak and Ong Bak 2: The Beginning are already available on Blu-ray. Ong Bak 3 will complete the series, though we don't know yet if Magnolia plans to offer a complete box set.
Pre-order Ong Bak 3 on Blu-ray for a discounted price at Amazon.com.