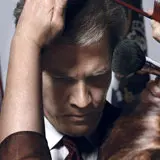 Lionsgate Home Entertainment has formally announced Oliver Stone's W, the true life story of soon exiting President George W Bush, will be inaugurated in high definition on Blu-ray Disc February 10.
Technical specs have not been released at this time but we'll be sure to pass them along once available. Expect 1080p video and lossless audio at the very least.
Unlike Lionsgate's Repo! The Genetic Opera, which will be loaded with Blu-ray Disc exclusives, W will share its bonus features 1:1 with DVD. The complete list is as follows.
"Dangerous Dynasty: The Bush Presidency" – a look at the Bush legacy from political experts
"No Stranger to Controversy: Oliver Stone's George W. Bush" – an inside look at the making of the film
Deleted scenes
Commentary with Director Oliver Stone
W on Blu-ray will retail for $39.99. Check back regularly as we track down high resolution cover art and pre-order information.