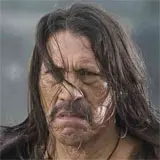 IGN has premiered the Grindhouse fueled first full-length trailer for Robert Rodriguez' Machete that will be playing in front of Predators this weekend.
Machete, inspired by and expanded from the original Grindhouse trailer, stars Danny Trejo as a former Mexican Federale who is set up during an assassination attempt on a senator. On the run with nothing to lose, he teams up with a collection of bad asses while being chased by a sexy ICE agent.
The impressive cast for Machete also includes Steven Seagal, Robert De Niro, Jessica Alba, Michelle Rodriguez, Cheech Marin, Lindsay Lohan, Don Johnson and Jeff Fahey. It slashes its way into theaters on September 3.