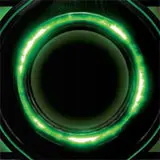 Promotional materials for Warner Bros. The Green Lantern has surfaced that reveals what appears to be the film's official logo and activated ring (via SuperheroHype).
The logo could conceivably change between now and the film's June 17, 2011 release but odds are extremely favorable this is it. The artwork originated from License! Global magazine, released this past week in preparation for next week's licensing show in Vegas that should bring us a slew of first look movie logos (and possibly more). Also included is a promo shot from Warner Bros. Consumer Products depicting their lineup of superheroes in comic form.
The Green Lantern is currently in production in Louisiana and stars Ryan Reynolds, Blake Lively, Peter Sarsgaard, Tim Robbins, Mark Strong and Temuera Morrison.