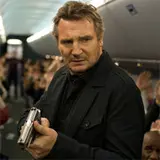 Liam Neeson takes his particular set of skills high in the sky in Non-Stop, the actors latest action-adventure thriller that pits him against a band of bad guys 40,000 feet in the air. Non-Stop will make its next stop May 27 on Digital HD, followed by a Blu-ray and DVD debut on June 10.
Non-Stop also stars Julianne Moore, Michelle Dockery, Lupita Nyong'o, Scoot McNairy, Linus Roache and Corey Stoll. It was released in cinemas in late February and has earned $184 million around the globe thus far from a production budget of $50 million.
The Blu-ray edition of Non-Stop includes the film on DVD and Digital HD as well. The feature film will be presented in 2.35:1 1080p video and 5.1 DTS-HD Master Audio.
Bonus features include:
Non-Stop Action (Blu-ray Exclusive) – How do you create exciting and original action on a 20′ by 30′ set the shape of a tube? Director Jaume Collet-Serra, stunt co-coordinator Mark Vanselow, producer Joel Silver, and star Liam Neeson discuss the film's visceral action sequences.
Suspense at 40,000 Feet – Journey behind the scenes with Liam Neeson, Julianne Moore, director Jaume Collet-Serra and producer Joel Silver as they discuss the making of Non-Stop and the film's suspenseful story.
Check out the Non-Stop Blu-ray combo cover art below.
Pre-order Non-Stop on Blu-ray combo for $24.99 at Amazon, 30% off the $35 list price.