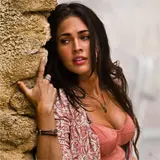 It looks like Megan Fox's days of running from giant Transformers while holding Shia LaBeouf's hand are a thing of the past. Paramount has not renewed the actress' option to co-star in Transformers 3.
The news first broke this afternoon at Deadline Hollywood along with a history of the back and forth insults between Fox and director Michael Bay. Deadline's Nikki Finke attributes the final decision and suggests Bay axed his leading lady as revenge for her badmouthing how he runs his production.
However, Entertainment Weekly claims their insider sources told them that Megan's ousting was purely a business decision and is based upon the evolving script that calls for Sam aka Shia LaBeouf to meet a new love interest. That didn't work out so well for him in Revenge of the Fallen when a potential new love interest tried to skewer him with her metal tail.
The truth probably falls somewhere in the middle. I cannot imagine screenwriter Ehren Kruger deliberately writing Fox's character out of the story unless explicitly directed to do so by Michael Bay and Paramount. What reasons could they have for doing so? It circles back around to comments made by the Transformers crew in a lengthy anonymous letter that claims she is a real bitch to work with. Who knows? Maybe she made a play for more cash to have to get sweaty and roll around in the sand again.
With Megan now officially out on her own with fingers crossed that Jonah Hex doesn't bomb and become another Jennifer's Body flop, we get to ponder what leading lady is hot enough to replace Fox and lure in the young boys. Any guesses?