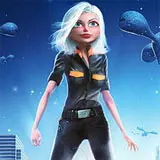 I had been preparing questions for Dreamworks and Paramount Home Entertainment pertaining to their plan for handling 3D on the upcoming Monsters vs Aliens Blu-ray Disc and DVD that stars the voices of Seth Rogen, Hugh Laurie, and Kiefer Sutherland. This morning all the questions were addressed with the same blanket answer: we're not ready.
In a surprising move, Dreamworks will be releasing Monsters vs Aliens on Blu-ray Disc and DVD without 3D despite approximately 58% of box office ticket sales coming from 3D screenings. The reasons are purely technical. It cannot be done… yet.
Speaking to Home Media Magazine, DreamWorks Animation chief Ann Daly explained the reasoning as follows: "The movie itself was developed with the notion of doing the RealD-Dolby experience in theaters, and those specs are not ideal for the anaglyph presentation for home viewing, which still relies on glasses with colored rather than polarized lenses," Daly said. "It's a completely different process, and when we started to look at how it would look in the home, we were not satisfied."
The new animated short B.O.B.'s Big Break included with the Blu-ray and DVD version and a paddle ball game bonus feature will be offered in 3D viewable using four packed-in magenta-and-green glasses. "The short was specifically designed with magenta-and-green glasses in mind," Daly added. "We even adjusted the color for 3-D conversion to optimize the 3-D experience."
As for the rest of Monsters vs Aliens on Blu-ray, expect a 2.35:1 1080p transfer and 5.1 Dolby TrueHD audio. Bonus features will be mostly shared between the two versions with a couple Blu-ray exclusive exceptions as marked below.
B.O.B.'s Big Break in 3D
Paddle Ball Game in Monster 3D
Modern Monster Movie Making
Three Never-Before-Seen Deleted Scenes

Monger's Plan
War Room Turns on Monsters
If You Don't Know

DWA Music Video Juke Box
Filmmaker Commentary
The Tech of Monsters vs Aliens
Top Secret Sneak Peek Files

How To Train Your Dragon (HD)
Shrek The Musical (HD)
Kung Fu Panda World (HD)
The Penguins of Madagascar (HD)
Shrek The Halls (HD)
Secrets of the Furious Five
MMonsters vs Aliens Activision Game trailer

Karaoke Music Party with:

"More Than A Woman" with B.O.B.
"Born To Be Wild" with Dr. Cockroach & Missing Link
"I Will Survive" with Ginormica

Animators' Corner – Picture-In-Picture (BD exclusive)
Trivia Track (BD exclusive)
The official synopsis for B.O.B.'s Big Breaks reads as follows: B.O.B. (Seth Rogen) and his monstrous crew are on a mission to bust out of Area 52, the government's top-secret holding cell. Led by mad-scientist Dr. Cockroach P.H.D. (Hugh Laurie) and macho amphibian The Missing Link (Will Arnett), the trio outwits grizzled General W.R. Monger (Kiefer Sutherland) to make a triumphant escape. Almost.
Pricing is not yet available for either version of Monsters vs. Aliens though you can check out the Blu-ray Disc cover art below.