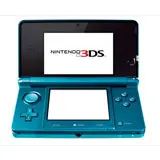 Nintendo issued a press release on Friday touting strong sales for their struggling 3DS handheld gaming console, and made a prediction for a milestone sales might cross through the first 12 months.
Right now per the NPD Group, Nintendo has sold over 1.65 million 3DS units since its launch in March. Approximately 250,000 of those sales came in October, two months after Nintendo dropped the system's price from $250 down to $170.
Looking forward, Nintendo expects 3DS sales through its first 12 months to surpass the 2.37 million DS units sold during its first 12 months from November 2004 through October 2005. The prediction is based upon 50 percent of the first-year DS sales coming during the holidays, and the release of Super Mario 3D Land this Sunday, and Mario Kart 7 in early December.
With Sony holding back PS Vita until early next year, 3DS and the DS family is poised to be a strong holiday seller.