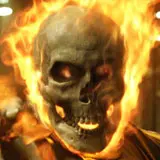 Nicholas Cage, not content with where he left the Ghost Rider franchise, wants to "reconceive" it and apparently has the studio (likely Sony) on board.
"I would like to go in a whole other direction, and I think that's what they're talking about," Cage told MTV News when being interviewed for his role in G-Force. "I would make it much less of a Western and more of an international story."
Apparently Cage wants Ghost Rider 2 to be set in Europe where he would team-up with the Catholic Church. He also promises fewer galloping horses and six-shooters if the film moves forward as planned.
This has The Punisher scenario written all over it. Sure, a better Ghost Rider can be forged. But do people want to see this character again so soon after flopping with fans?