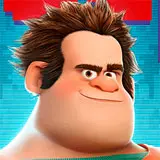 Sonic The Hedgehog, Q-Bert and a Pac-Man Ghost are just three of the classic video game characters that appear on the new theatrical one-sheet movie poster for Disney's upcoming animated film Wreck-It Ralph.
In Wreck-It Ralph, the title character has been working as the bad guy in the Fix-It Felix Jr. video game for over 30 years. Tired of continuously destroying a building that the hero of his game builds, Ralph escapes from his game into other games via a power cord, and sets out to become a good guy for the first time in his otherwise repetitive and stale life.
Rich Moore makes his directorial debut with Wreck-It Ralph and will call upon the voice talents of John C. Reilly, Sarah Silverman, Jack McBrayer and Jane Lynch to bring various CGI-animated video game worlds to life.
Wreck-It Ralph opens in 2D and 3D on November 2 in theaters everywhere.