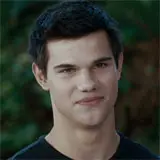 Summit Entertainment has released what are by my count the sixth and seventh clips from The Twilight Saga: Eclipse. At this rate you will have seen half the film before it comes out on June 30.
The first clip sees Bella (Kristen Stewart) and Jacob (Taylor Lautner) pay a visit to the Wolfpack. They all aren't exactly thrilled to see her, and amazingly Lautner is the only guy in the scene with his shirt on.
The second clip introduces newborn vampire Bree (Jodelle Ferland) who cries to vampire Riley (Xavier Samuel) for help after realizing she's changed. Sorry, no Robert Pattinson in this round.
> >
> >