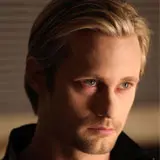 HBO has released a new extended Ultimate Fan Preview for the third season of True Blood following last night's Ultimate Truebie Event.
True Blood season three kicks off on June 13 with the episode 'Pack of Wolves.' It will be followed by 'Beautifully Broken' and 'It Hurts Me Too' on the subsequent two Sundays.
While season three will include all your favorite actors like Anna Paquin, it will also introduce many new ones. Some of them are Kevin Alejandro, Denis O'Hare, Brit Morgan Lindsay Pulsipher, Lara Pulver, Shannon Lucio, Cooper Huckabee, Alfre Woodward, James Frain, J. Smith-Cameron, Michael Steger, Theo Alexander, Joe Manganiello and Marshall Allma.