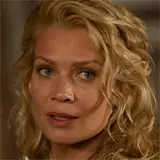 AMC has released the official web versions of 6 new images from The Walking Dead: Season 3 that each put the focus on a character or characters from the upcoming new season.
The first image features Daryl Dixon (Norman Reedus) leading survivors Glenn (Steven Yeun), Maggie Greene (Lauren Cohan), Lori Grimes (Sarah Wayne Callies), Hershel Greene (Scott Wilson) and Rick Grimes (Andrew Lincoln) through the woods, presumably toward their destiny at the prison. It's interesting to see newly asserted leader Rick at the back of the pack while Daryl takes the lead.
The remaining images feature Glenn taking on a zombie, Rick doing the same, Andrea (Lori Holden) looking remarkably cleaned up, Michonne (Danai Gurira) ready to rumble, and The Governor (David Morrissey) posing in an authoritative manner.
The Walking Dead: Season 3 premieres in roughly six weeks on Sunday, October 14 on AMC.