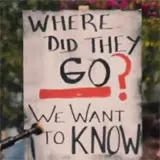 With The Leftovers creeping a little closer toward its premiere next month, HBO has sent out another new trailer to promote the new series and called upon a familiar sound to power it.
Set to the song 'Dreams' by Fleetwood Mac, and further proof that Stevie Nicks is everywhere these days after appearing on FX's American Horror Story: Coven, The Leftovers trailer explores the Kubler-Ross five stages of grief model for people facing the knowledge of their imminent death. These stages include anger, denial, bargaining, depression and acceptance.
This particular trailer is emotionally charged by these stages as characters each react in their own way to an event that occurred two years prior that saw two percent of the world's population simply vanish ala The Rapture. Some lash out. Some mourn. Some break down. And at least two appear to take their own lives.
The Leftovers comes from Damon Lindelof (Lost) and is based on the novel by Tom Perrotta. It stars Justin Theroux, Liv Tyler, Curtiss Cook, Carrie Coon, Margaret Qualley and Frank Harts.
HBO will air the series premiere of The Leftovers on Sunday, June 29 at 10/9c following the Season 7 premiere of True Blood.
In addition to a new The Leftovers trailer, enjoy a new poster for the series just below.