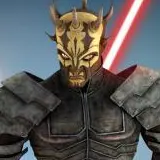 A three-episode arc in LucasFilm's Star Wars: The Clone Wars arc set to air in January will introduce the villain Savage Opress, vengeful brother of halved Sith Lord Darth Maul. These episodes promise to show – for the first time – Sith training and reveal some secrets about Darth Maul's past and the Dark Side of the Force.
LucasFilm is holding a free theatrical preview screening for these episodes in the following cities: Atlanta, GA; Boston, MA; Chicago, IL; Dallas, TX; Los Angeles, CA; New York, NY; Philadelphia, PA; San Francisco, CA; Seattle, WA; Phoenix, AZ; and Washington D.C. You can RSVP for a screening in the city of your choice right here, but be sure to bring a new/unwrapped toy for children in need this holiday season.
In the clip below, Savage Opress disposes of some Clones before facing off against a lone Jedi. You can probably guess who has the upper hand in this confrontation.
The first episode in the Sith arc premieres January 7, 2011 on Cartoon Network.