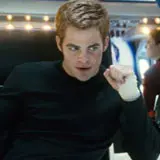 Paramount held off debuting what would be the first teaser trailer for Transformers 2: Revenge of the Fallen or GI Joe: The Rise of Cobra in front of Quantum of Solace, much to the chagrin of 80s nostalgia fanboys the world over.
The studio did however roll out the first real look into the delayed into 2009 Star Trek reboot courtesy of JJ Abrams that incited emotions ranging from thrilled by the action to annoyed by the Enterprise's new interior design.
We got our first look at the trailer over the weekend courtesy of a decent bootleg. It held us over but the small size and low resolution made it hard to figure out what was going on in several scenes.
Today Paramount unveiled the full spectrum of high definition viewing options for the new Star Trek trailer. Seeing a much larger and clearer image brings out a lot of new small details the bootleg version simply couldn't. I especially love the shot of Kirk looking on from his motorcycle as the Enterprise is under construction. This shot is 10000 times better in HD.
The trailer can be seen in several formats over at Apple.com. Click here to check them it out.