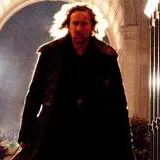 Disney is gearing up to finally take the lid off their modern reimagining of The Sorcerer's Apprentice set in the real world with a new image and countdown to the trailer set to debut tomorrow.
The image shows star Nicholas Cage as Balthazar Blake looking quite serious under the city lights. The flick also stars Monica Bellucci and Alfred Molina.
Apple.com is where the first trailer will debut tomorrow night, December 8, at 10pm EST. Check out the countdown clock right here.
The Sorcerer's Apprentice arrives in theaters on July 16, 2010.