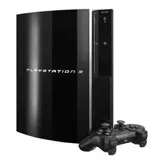 Playstation 3 "Slim" rumors kicked back into gear today with a new report at Arstechnica from a source who has a perfect record with leaked information in the past.
The report suggests that the PS3 Slim console is all too real and will eventually replace the current console.
PS3 Slim will not, however, debut at E3 next week in Los Angeles. The report goes on to indicate Sony is looking at an August or September time frame to roll the console out once quantities of the existing console have been diminished at retailers.
Evidence of efforts by at least one retailer, Amazon.com, to move PS3 consoles has been strong of late. In addition to shaving $10 off the 80GB console price and $20 off the 160GB console, a new promotion is offering a free DualShock 3 controller with the purchase of an 80GB PS3 console.
PS3 Slim pricing information, Blu-ray compatibility and other details are still in the dark. Hopefully Sony will formally address the issue sooner rather than later.