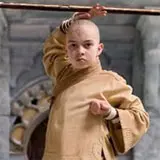 Yahoo! Movies is sharing a pair of new theatrical one-sheet posters for M. Night Shyamalan's The Last Airbender.
The posters feature Firebender Zuko (Dev Patel) and Airbender Aang (Noah Ringer) with colors reflective of their gifts. The film, based on Nickelodeon's animated Avatar TV series, co-stars Nicola Peltz, Jackson Rathbone (The Twilight Saga: Eclipse), Keong Sim, Shaun Toub, Jessica Jade Andres, Aasif Mandvi and Cliff Curtis.
The Last Airbender touches down in theaters on July 2. The first new footage since the brief teaser trailer is expected to debut as a Super Bowl XLIV commercial.