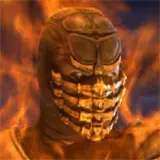 Next year's triumphant return of Mortal Kombat is returning to the franchise's 2D roots but taking the visuals into the realm of what you'd expect a PS3 or Xbox 360 console to deliver.
Proof of NetherRealm Studios aethestic work comes in the form of this new Mortal Kombat 'Shadows' trailer. It's all pre-rendered stuff but oh if it doesn't look really pretty. In a completely gory and masculine way, of course.
Mortal Kombat opens its doors for competition next year. Pre-order a copy for PS3 or Xbox 360 at a discounted price from Amazon.com.