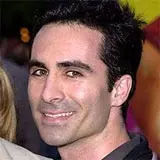 The DVD launch party for J.J. Abrams' Star Trek allowed the media to pepper the filmmaker and his Bad Robot cohorts with questions pertaining to the film's upcoming sequel. Other than a slim possibility of a 2011 release and coy remarks about tinkering with no boundaries to when the film might be set, nothing we did not already know was offered.
Over at ComingSoon a new rumor has surfaced that, if it pans out to be true, is worth rejoicing for. Though no one at Bad Robot or Paramount has confirmed Khan will appear in the Star Trek sequel, the top choice within the Bad Robot circle is none other than Nestor Carbonell.
Nestor is best known for playing the mysterious Richard Alpert on Lost which happens to be executive produced by Abrams. He is not only an accomplished television actor whom has appeared on The Tick as Batmanuel and Suddenly Susan, but he looks a heck of a lot like a younger version of the original Khan actor Ricardo Montalban.
ComingSoon wraps up their report with the following caveat to the rumor, "There are way too many variables right now, including the fact that the Khan character may not even be in the sequel. We just know that if they started filming today, he would be their man."