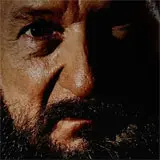 A pair of new TV spots for Marvel's Iron Man 3 have hit the web. One is targeted for international audiences and the other for North America. Both have some great new footage you won't want to miss.
The international spot adds additional confirmation beyond a Lego set that Pepper Potts (Gwyneth Paltrow) will indeed don the Iron Man armor in the film. Tony Stark (Robert Downey Jr.) actually uses the Extremis technology to make the armor attach to Pepper while his (their?) home is under attack. She obliges the gesture by using the armor to protect Tony from falling debris.
This spot also includes a quick glimpse of Mandarin (Ben Kingsley) looking very terrorist-like with a group of men armed with machine guns, as well as a strange shot of the presumed empty Iron Man armor falling to the ground.
The North American spot shows what we all assumed would happen actually happen; Mandarin blowing up the landmark TCL Chinese Theater (formerly Mann's Chinese Theater) in Hollywood, California. By the looks of the blast he pretty much levels it to the ground. This spot also includes a clearer look at the Mandarin in terrorist mode shot.
Iron Man 3 is co-written and directed by Shane Black and stars Robery Downey Jr., Don Cheadle, Gwyneth Paltrow, Guy Pearce and Ben Kingsley. The first film in Marvel's Cinematic Universe Phase 2 launches on May 3, 2013.
International spot source: CBM