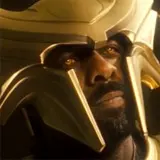 Marvel has released a new high resolution image of golden armor clad Heimdall from the upcoming Thor movie.
Heimdall is played by Idris Elba and serves as a protector of Asgard where Thor and his family hails from. More specifically he is the guardian of the rainbow bridge Bifrost which will play an important role in transporting the gods from their realm to ours.
Thor is directed by Kenneth Branagh and also stars Chris Hemsworth, Natalie Portman, Anthony Hopkins, Kat Dennings, Ray Stevenson, Stellan Skarsgård and Tom Hiddleston. Look for Thor in 2D and 3D varities in theaters beginning May 6.
Click the picture of Heimdall from Thor below for a high resolution look.