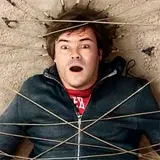 Fox is sharing a new trailer for next month's Gulliver's Travels which sees Jack Black end up in the clutches of Lilliputians. After watching this trailer it's safe to assume that your tolerance for this film will depend squarely upon your tolerence for Mr. Black's schtick.
Rob Letterman (Monsters vs. Aliens) directs this reimagining of the classic tale in which Black portrays an underachieving writer at a New York magazine. He's finally given the opportunity for a traveling story when his boat is hit by a tornadic storm and he wakes up on a beach tied up by little six-inch people. Co-starring is an impressive ensemble including Emily Blunt, Jason Segal and Amanda Peet.
Gulliver's Travels hits theaters in 3D and 2D on December 22.