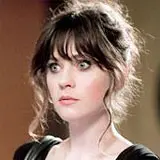 New Girl starring Zooey Deschanel and its Tuesday Fox companions Raising Hope and Glee are taking a little break.
The combination of MLB baseball playoffs and an expansion of X-Factor led to the network deciding the trio of shows would be better suited taking a short hiatus. They'll be back on November 1 with all-new episodes.
Fox has also set the Terra Nova: Season 1 finale date for Monday, December 19. The finale will run two hours, just as the season premiere did.
The network has yet to renew Terra Nova for a second second. Its ratings dipped to 6.9 million total viewers and a 2.6 in the 18-49 demographic for its third episode that aired last night, due in part to those pesky baseball games.