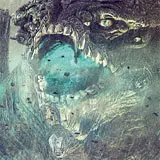 Guillermo del Toro aimed big when designing the Jaegers (human piloted robots) and Kaiju (monsters) for his summer blockbuster Pacific Rim. It seems only fitting at the latest piece of promotional material released for the film is so big that it will extend far beyond the visible reach of your monitor or viewing device.
Below you will find a massive theatrical Pacific Rim banner that will require a good bit of side-scrolling to view in its entirety after clicking the smaller version below to get into a separate window, then clicking again to enlarge to full size. Give it a little time to load first if you don't see the entire banner before clicking.
What I love about this banner is that it offers our clearest look at the Jaeger robots and Kaiju yet. Let's be honest; all the action scenes in the trailer have been set either in the rain or at night in the rain. It's been hard to make out any of the fine details on especially the Kaiju from edited snippets of footage. This banner rectifies that to a small extent.
Just below the banner you will find a Japanese version of the Pacific Rim trailer with a few extended and new scenes as well as an introduction by del Toro crafted specifically to the Japanese audience.
Pacific Rim stomps into theaters on July 12.