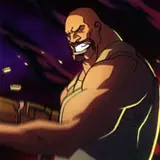 A freshly drawn piece of promotional artwork has surfaced for Hasbro's GI Joe: Resolute series that aired earlier this summer exclusively on The Cartoon Network's Adult Swim website and on-air.
2-Cents, the artist behind the drawing, was commissioned bu Titmouse Animation to create the piece for promotional use. He seems fairly confident that Hasbro will be releasing the complete Resolute show on home video in the coming months stating, "I'm pretty sure Hasbro will be releasing Resolute on DVD in the months to come so be on the lookout!"
The ideal time to unveil Resolution on DVD and Blu-ray Disc is when GI Joe: The Rise of Cobra is released on both formats in or around December.
GI Joe: Resolute was created for adults who grew up with Hasbro's GI Joe 80s toys and cartoon. Characters face death, curse and mass genocide unlike anything seen in the old cartoon series.
Click the promo artwork to enlarge.