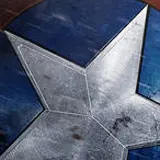 A new poster for Marvel's Captain America: The First Avenger has come online via Yahoo! Movies. With it comes the promise that a new and likely final trailer will following tonight at 7:30pm EST/4:30 pm PST.
The new poster features a close-up look at Chris Evans as Captain America as he strikes an action pose with shield in hand. The streaks of light and gritty feel are reminiscent of the Transformers: Dark of the Moon posters that makes me wonder if the same artist or artists worked on both.
Captain America: The First Avenger stars Chris Evans, Hugo Weaving, Sebastian Stan, Hayley Atwell and Samuel L. Jackson. It will deliver the final Marvel movie prior to The Avengers next summer on July 22.
Source: Yahoo