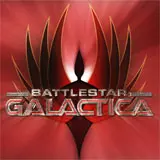 Battlestar fans will get to put off their mourning a little while longer.
The Sci-Fi Channel has announced an all-new TV movie featuring a good part of the original Battlestar Galactica cast has been green-lit. You didn't think they were ready to trash those wonderful sets so soon, did you?
The new TV movie will take place immediately before the attack on Caprica, which is just before the series begins. Commander Adama himself Edward James Olmos is set to direct with Michael Trucco, Aaron Douglas and Dean Stockwell already on board to reprise their roles. Additional casting of familiar names is expected.
Production is set to begin in Vancouver, the home of Battlestar Galactica, later this summer.
The two-hour movie will air on the Sci-Fi Channel sometime after the season four finale.
You can also check out the full Caprica trailer over at the official Sci-Fi Channel Battlestar Page.