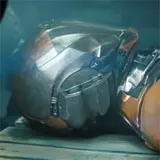 Universal has deployed a third action-packed trailer for Peter Berg's Battleship, based on the Hasbro board game and loaded with metallic visual effects.
For this new look at Battleship, Berg and the marketing powers at Universal have placed the emphasis on action, action, Rihanna, aliens, and more action. The trailer opens with an unconscious alien on an examination table, ready to be examined by the naval crew. There's a big scare once Taylor Kitsch removes the alien's helmet as it presumably looks really nasty, comes to life, or both depending on how the sequence is edited for the trailer.
This is our first up close look at one of the Battleship humanoid aliens in their armor. The design looks like it's right out of any number of video game franchises including Halo and Mass Effect, surely not by coincidence to try to capitalize on the gaming populace's aesthetic tastes.
As for the action, wow, Universal spared no expense in realizing Berg's vision. They're clearly aiming for Transformers level box office returns with the sheer amount of large-scale destruction, combat, and massive mechanical alien crafts inflicting huge damages on mankind. Michael Bay either feels like a proud parent or ripped off right about now. Either way, both Battleship and Transformers hail from Hasbro so at least there's some connection between the two brands.
Battleship stars Taylor Kitsch, hoping to avoid another big budget box office bomb after John Carter; Liam Neeson; Alexander Skarsgard; Brooklyn Decker and Rihanna. It opens in theaters on May 18, though I have no idea why Universal refuses to put that date on any of their trailers.