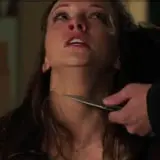 The CW has issued a new trailer for the hit freshman DC Comics-inspired series Arrow that recently scored a second season renewal. The trailer is designed to promote the next several episodes that will air through the month of March, and it includes what are either some big spoilers or deliberate means of misdirection.
Two scenes in particular that stand out each feature Oliver (Stephen Amell) in a precarious position. The first sees him in bed, presumably post-sex, with Laurel (Katie Cassidy). I'm not entirely convinced this scene occurs during awake hours as there's a strange glow about it that might suggest a dream. Still, whether a dream or a flashback, fans awaiting his hookup are in for a treat.
The other scene shows Arrow, or "hood guy" as I still like to call him, confronting his mother Moira (Susanna Thompson) and telling her the infamous "you have failed this city" line while aiming an arrow at her chest. I'm thinking this is a last resort to scare mom straight.
Other notable glimpses into the future of Arrow include plenty of island time, a look at Roy Harper (Colton Haynes), and Detective Lance (Paul Blackthorne) calling upon Oliver to help him save his kidnapped daughter Lauren. At some point the good detective has to figure out that Oliver is Arrow, right? That revelation would make for a good lead-in to Season 2.
Check out Arrow on Wednesdays at 8/7c on The CW, with the next new episode airing tonight.