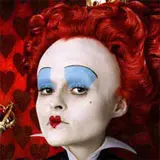 Tim Burton's Alice in Wonderland starring Johnny Depp is gearing up to hit the small screen in a big way with a series of new spots leading up to a big Super Bowl reveal.
The unique 60-second spots are tailored to and will air on Disney sister networks ABC, ESPN and ABC Family between January 31 and February 6. The final spot dubbed "Tick-Tock" will air during the Super Bowl and reveal "a few surprises."
Here is the complete schedule of where and when you can spy each spot.
ABC
Desperate Housewives, Jan. 31, 9/8c
The Bachelor, Feb. 1, 8/7c
ESPN
2010 NFL Pro Bowl, Jan. 31, 7:20ET
NBA Nuggets/Lakers game, Feb. 5, 10:30ET
ABC Family
Greek, Feb. 1, 10/9c
The Parent Trap, Feb. 6, 8/7c
Super Bowl XLIV will kick-off and debut the last Alice in Wonderland spot on February 7.