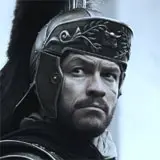 Neil Marshall's Centurion saw a limited release in US theaters this weekend and according to Amazon.com will arrive on Blu-ray Disc and DVD before you know it.
Amazon's active Blu-ray pre-order listing for the Roman battle epic with the tag line "fight or die" and cast featuring Michael Fassbender (Magneto in X-Men: First Class) and Dominic West (John Carter of Mars ) lists a November 2 release date and SRP of $29.98. I won't have any additional information on the title until Magnolia Home Entertainment makes their announcement.
Pre-order Centurion on Blu-ray for $21.99 at Amazon.com.