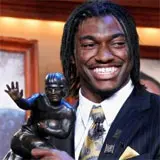 EA Sports has announced that Heisman winner and former Baylor University quarterback Robert Griffin III will be the cover athlete on this year's NCAA Football 13. And he won't be alone.
A second Heisman winner will join Griffin on the cover, and that athlete will be selected by the fans by voting on EA Sports' Facebook page. The list of Heisman winners that can be voted on include former University of Southern California running back Marcus Allen, former Boston College quarterback Doug Flutie, former Ohio State running back Eddie George, former Michigan wide receiver Desmond Howard, former Oklahoma State running back Barry Sanders, former Georgia running back Herschel Walker, former Florida State quarterback Charlie Ward and former Houston quarterback Andre Ware.
Desmond Howard was previously on the cover of NCAA 06 in 2005.
Fan voting begins on March 12 here: http://www.facebook.com/easportsncaafootball
Griffin broke almost every school record for a quarterback while at Baylor University in Texas, and finished his incredible year by securing the highest individual honor in all of college football.
Griffin, or RGIII, joined the NFL draft where he is expected to be selected within the top 5. One likely destination is to the quarterback-challenged Washington Redskins.
NCAA Football 13, EA Sports' perennial college football game, will be released July 10 on Xbox 360 and Playstation 3.