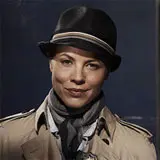 NBC will wrap production on the freshman drama Prime Suspect starring Maria Bello before the month is out, signaling what could be the end for the ratings challenged show.
Just yesterday, NBC announced its mid-season schedule and Prime Suspect, along with the comedy Community, was noticeably left off it. Replacing Prime Suspect on Thursday nights at 10pm beginning January 12 will be The Firm.
Though all indications point toward Prime Suspect coming to an end after 13 episodes, NBC has yet to formally pull the plug and announce a cancellation. They have stated that options are still being considered regarding the show's future despite production wrapping up.
Ratings for Prime Suspect have been trapped in time since its premiere despite the network shuffling it around on different nights to try and ignite a spark with viewers. It has averaged 4.9 million total viewers per episode and a lowly 1.4 in the 18-49 demo.
Barring an unexpected turn of events, Prime Suspect looks to be retiring for good.