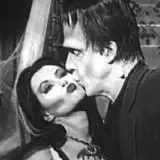 One of the original creepy families is one step closer to returning to the small screen as NBC has greenlit a pilot episode of Bryan Fuller's The Munsters. The project has been in development since at least September, 2010 when news first broke of its existence.
In Fuller's re-imagined version of The Munsters, the family consisting of Herman, Lily, Eddie, Grandpa and Marilyn will appear in hour-long episodes. The campy tone of the original 1960s show will be dialed back, and a darker tone will take its place.
Fuller is best known for creating Pushing Daisies, a drama starring Lee Pace and Anna Friel that lasted only two seasons. It was loved by its small fan base, but those fans weren't enough to keep the show about a pie-maker who could bring people back from death to help solve their own murders, on the air.
NBC is keen on getting into the monster business and has multiple projects in the hopper. In addition to The Munsters, they're working on a Frankenstein idea with House producers Russel Friend and Garrett Lerner. Fuller is also working on a series based on the Hannibal Lecter novels, made famous on the big screen in Silence of the Lambs.
The Munsters securing a pilot order does not mean it will become a series. Look no further than David E. Kelley's recent Wonder Woman pilot which was axed shortly after it was completed.
Source: EW