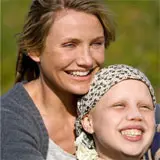 Nick Cassavetes' 2009 tearjerker My Sister's Keeper is coming to Blu-ray Disc and DVD on November 17.
The film, starring Cameron Diaz and Abigail Breslin, will be offered on Blu-ray in 2.4:1 1080p video and 5.1 Dolby TrueHD audio.
Bonus features are confirmed to include over 15 minutes of deleted scenes; Blu-ray exclusive From Picoult to Screen: a visit with bestselling author Jodi Picoult; behind-the-scenes footage and a digital copy.
My Sister's Keeper on Blu-ray will retail for $34.99.