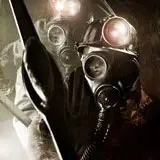 Update: We can now confirm that the Blu-ray edition will retail for $39.99, include an exclusive digital copy and the following bonus features: feature-length audio commentary, two featurettes – "Deep Inside My Bloody Valentine" a behind the scenes look at the making of the film and "Sex, Blood and Screams" – the make-up FX from the film, deleted scenes and a gag reel. Four pairs of 3-D glasses are also confirmed.
Lionsgate Home Entertainment has officially notified retailers that My Bloody Valentine 3-D is coming to Blu-ray Disc on May 19, day-and-date with multiple DVD versions.
Details are still skimpy at this time but we can confirm both 2-D and 3-D versions of the film will be on all skus, Blu-ray included. Expect at least two pairs of glasses packed in as well.
Bonus features on Blu-ray should be abundant since DVD will have a two-disc special edition variation. We'll pass along those details, as well as high-res cover art and Amazon.com pre-order information, as soon as they are available to us.