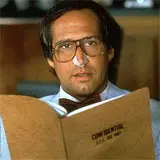 Universal continues to clean out their former HD DVD collection by adding two additional titles to the Blu-ray ranks on top of the five announced yesterday.
In addition to releasing former HD DVD exclusives Children of Men, Inside Man, Cinderella Man, Seabiscuit and Field of Dreams on Blu-ray May 26, Universal will port over Fletch: Jane Doe Edition and Bruce Almighty a week later on June 2.
Both films will be presented in their original 1.85:1 1080p aspect ratio with a bump up in audio quality to 5.1 DTS-HD Master Audio versus the lossy audio tracks offered on HD DVD. Bonus features are identical to what's been available previously on multiple releases with the addition of BD-Live and guides.
Fletch
Playstation 3 Controller
BD Live – Basic Download Center
Just Charge It To The Underhills: Making and Remembering Fletch
From John Cocktoastin To Harry S. Truman: The Disguises
Favorite Fletch Moments
Theatrical Trailer
Bruce Almighty
Playstation 3 Controller
BD Live – Generic Download Center
BD Live – My Scenes Sharing
The Process of Jim
Outtakes
Deleted Scenes with Optional Commentary by Director Tom Shadyac
Feature Commentary with Director Tom Shadyac
Universal has set $29.98 SRPs for Fletch and Bruce Almighty on Blu-ray. Amazon links and cover art will be available and shared shortly.