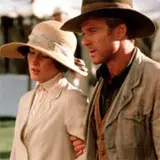 The January debut of Universal's Blu-ray + DVD flipper discs with the Bourne Trilogy films raised an interesting question. Would the studio stick with previously released titles on Blu-ray to move to the flipper format, or would it release films exclusively in high definition as flippers?
The answer, it turns out, is both.
The second wave of Universal Blu-ray + DVD flipper discs is due April 27 and will include Traffic, The Jackal, and Out of Africa: 25th Anniversary Edition, all with an SRP of $26.98. Traffic is an HD DVD holdover, but the other are new to Blu-ray which means anyone who wants them will have to add flipper discs to their collection.
All three films will be presented in their original aspect ratios with 5.1 DTS-HD Master Audio. The Jackal will not include D-BOX Motion Control support but the other two films will.
Bonus features for each title are as follows:
Traffic
Deleted Scenes
Inside Traffic
My Scenes
BD Live
The Jackal
The Making of The Jackal
Feature Commentary with Director Michael Caton-Jones
Production Notes
Cast and Filmmakers
Theatrical Trailer
BD Live
My Scenes
Out of Africa: 25th Anniversary Edition
Deleted Scenes
A Song of Africa
Theatrical Trailer
My Scenes
Feature Commentary with Director Sydney Pollack
BD Live
Production Notes (DVD side only)
Cast and Filmmakers (DVD side only)
Check out cover art for all three Blu-ray + DVD flipper titles below.